Client Background
WhatImpact, a UK-based company, leverages technology to connect companies and grantmakers committed to making a social impact. Their platform revolutionises resource allocation, fostering transparency and enabling meaningful partnerships among companies, grantmakers, charities, and social enterprises. By streamlining the process, WhatImpact empowers organisations to drive positive change and create a lasting impact in the social impact sector.
Project Summary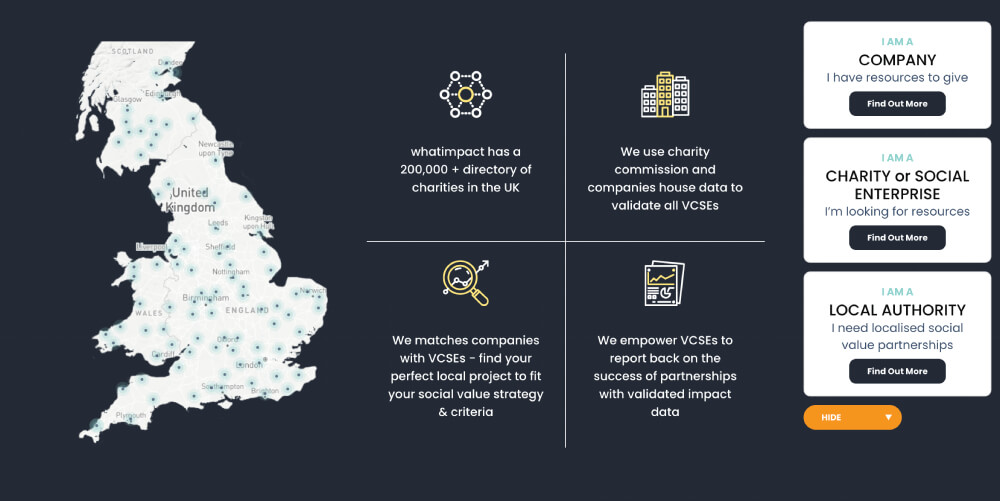 Atomate has been initially contracted to develop an initial MVP which was launched within 6 months. Following its success, What Impact has secured additional funding for further development of the platform, which was undertaken and successfully completed by Atomate.
WhatImpact is a groundbreaking platform that uses technology to transform social impact collaboration.At the core of the platform is a dynamic entity profile system that allows organisations to identify co-funding opportunities, as well as showcase work and achievements. It helps entities effectively manage projects and offers requests, communicate and engage with bidders and offerers. The simplified application process makes it easy for entities to connect and cooperate with potential partners.
With the extensive expertise in agile methodology and software development, Atomate was able to create a streamlined platform that simplified resource allocation that promoted transparency and impactful partnerships. The project has been completed successfully since then WhatImpact has experienced a remarkable increase in activity and its user base.
Services Provided
Atomate delivered a bespoke range of services to ensure a user-centric experience. The project began with the implementation of a highly customizable administration component, a powerful tool that allowed detailed profiles for each borough. This feature was critical in fostering a strong connection between entities and their localised communities.
The project development continued with unique content display across different subdomains, providing a localised browsing experience. Simultaneously, Atomate implemented a series of financial transparency features that adapted the Service Information Return (SIR) type based on payments.
In addition, our team set up a dedicated product line exclusively for boroughs, incorporating custom logic tailored to their specific requirements. This innovative approach ensured that each borough had a unique and tailored experience, aligning perfectly with their goals and mission.
In addition to these, Atomate recognized the need for dynamicity within the platform and developed flexible pages for each borough. This feature provided an additional space for boroughs to tell their unique stories.