Client Background
GroundTeq is a leading provider of a cloud-based operating platform that simplifies administrative tasks and optimises linehaul management. With a proven track record and is trusted by the largest FedEx Linehaul Contract Service Provider, GroundTeq offers a comprehensive solution to efficiently manage fleets, drivers, payroll, and overall business operations.
Project Summary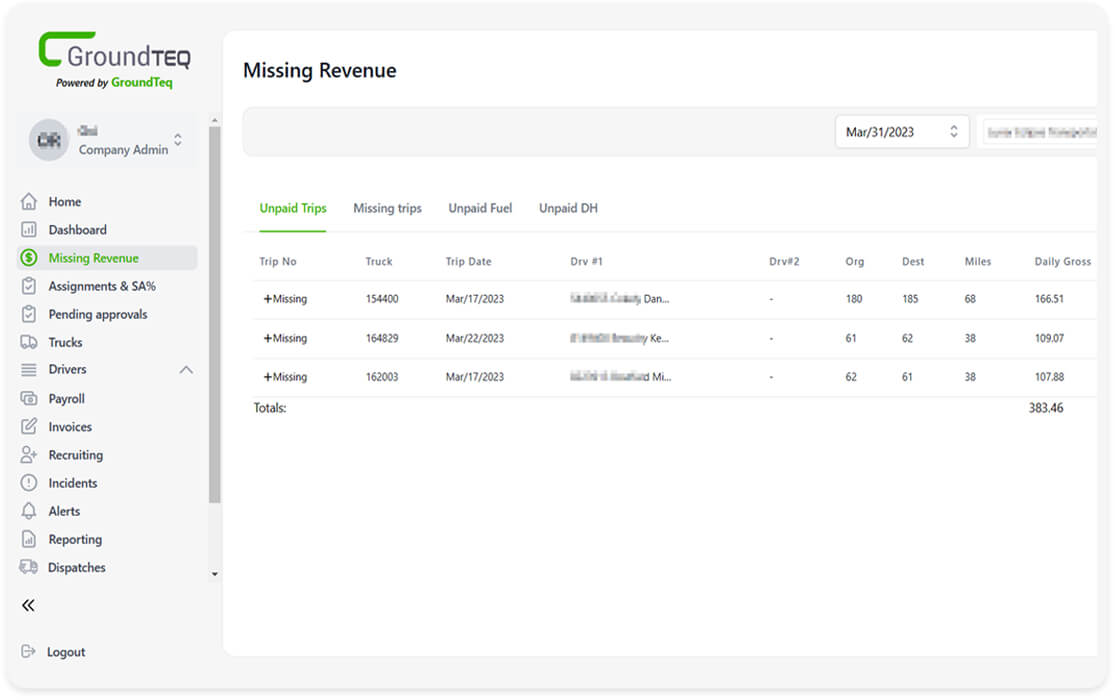 Working closely with GroundTeq's team, Atomate implemented innovative features tailored to address the unique needs of linehaul businesses. Our team developed an automated system for generating weekly profit and loss reports, ensuring timely and accurate financial insights. Additionally, Atomate integrated alert mechanisms for expiring truck and driver documents, reducing the risk of compliance issues.
Services Provided
Atomate partnered with GroundTeq to enhance their cloud-based operating platform and empower TSPs with tailored functionalities and capabilities. Atomate provided a range of specialised services to enhance GroundTeq's platform and offer an optimised user experience.
By integrating automated weekly profit and loss reports, users gained real-time financial insights with just a few clicks. Alert mechanisms were seamlessly implemented to keep track of expiring truck and driver documents, ensuring compliance and mitigating risks.
Atomate's expertise in streamlining operations led to automated driver pay calculations, revolutionising payroll management and minimising errors. The introduction of a user-friendly dashboard equipped with comprehensive metrics empowered businesses to monitor week-over-week trends, analyse performance, and unlock valuable insights through advanced reporting capabilities. Seamlessly integrating with multiple external systems further streamlined workflows, allowing for seamless data exchange.
Safety took centre stage as we co-created a dedicated portal to log, store, and retrieve safety incidents. GroundTeq users were empowered to upload VERD videos, document key learnings, and implement corrective actions. The recruitment process was also simplified with candidate tracking, and efficient payroll processing made accurate management a breeze. Lastly, the added feature of discounted fuel from top brands nationwide made GroundTeq an even more attractive solution for linehaul businesses.
Atomate successfully transformed GroundTeq's platform from a functional tool into a dynamic and versatile solution. Our partnership with GroundTeq fostered a user-friendly and adaptable solution that revolutionised linehaul business operations, empowering companies to achieve unprecedented levels of success.