Nearshore software development is becoming more popular each day because of both low costs and high quality. It is a form of low-cost outsourcing that involves the transfer of servicing and support functions to a location near their customer (the client).
Over time, nearshoring will replace offshore outsourcing as companies look for ways to bring the delivery of IT services closer to home without sacrificing performance.
"In short, software is eating the world" (Marc Andreessen)
Software development is really making the difference in the world. Nowadays having a software is a must-have for companies that want to provide value, to expand the brand, to enhance profitability and to keep their clients loyal.
Nowadays more businesses are nearshoring in Eastern Europe.
Why is this happening?
Due to a lot of advantages offered by the transfer of IT services to countries with lower costs and geographically close, nearshoring of software development has been increasingly popular among EU companies in the recent years.
This is happening due to numerous benefits East European countries offer, such as significantly lower IT costs but at the same time skilled workforce. It is important to choose correctly your nearshore software team from the very beginning.
An important thing in outsourcing is geographical position that sometimes is neglected. However it offers the internal team possibility to be in touch with external software development team in the same or similar time zones, and even allow them to meet more often in person due to easy traveling distance and low traveling costs. At least, but not last, it will allow your outsourcing partner use real-time info-sharing portals.
These advantages provide an excellent schedule for the projects and have a positive impact on the overall performance of the products.
Which countries are the most appealing for Software Development investment?
The progress of collaborative technologies is helping countries such as Poland, the Czech Republic, Hungary, Romania, Moldova to generate a solid IT sector. Plus the political situation in the mentioned countries is fairly stable.
These countries are geographically well positioned compatible with both Europe to the west and the Commonwealth of Independent States to the north and east. However, East European countries attract especially British companies that want to take IT services abroad.
A lot of companies from the UK, Germany, Austria or other West European countries consider nearshoring in Eastern Europe attractive for their businesses.
In the matter of pricing, Poland has the highest rates from East Europe. There a developer earns about 55-95$ per hour, which anyway is a lower rate than West Europe has.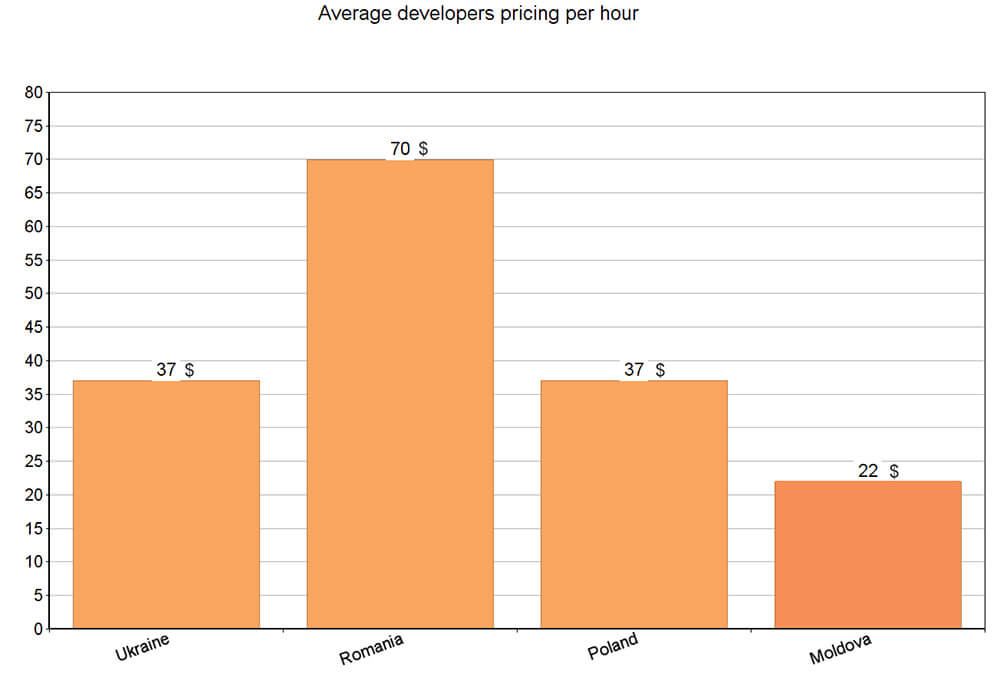 East European countries are attractive not just for Western Europe for the outsourcing of IT projects but they become increasingly appealing global destinations.
Moldova – the least expensive nearshore outsourcing destination in Eastern Europe
IT companies from Moldova offer lower costs for their qualitative services in comparison with other East European countries. Moldova has the lowest prices for outsourcing software development (about 20$ / hour). Outsourcing in Moldova will bring you a dedicated team working exclusively on your project.
According to Eurostat Statistic Offices, Moldova has the highest percentage of Computer Science Graduates in Eastern Europe.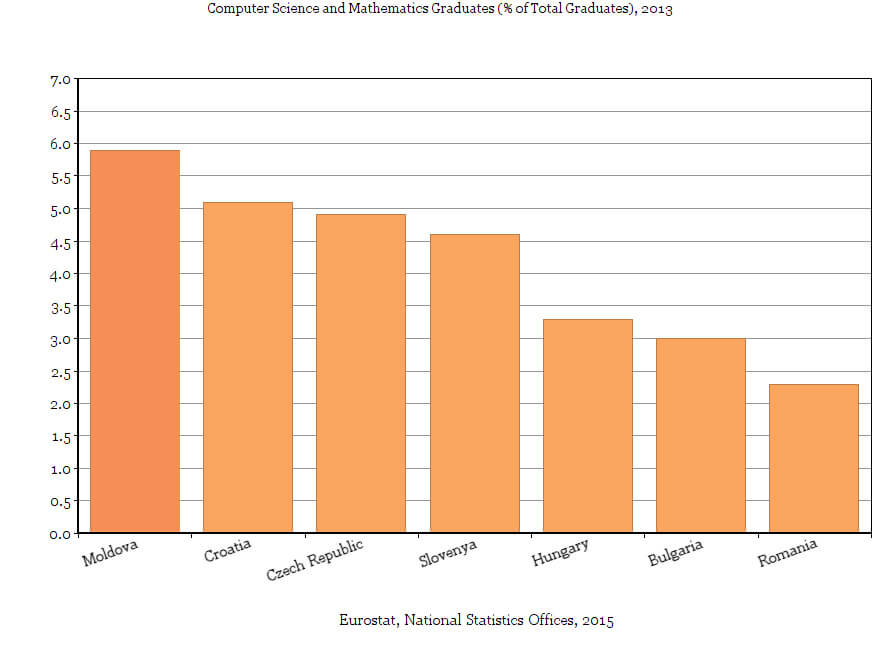 Moreover, according to the CEEOA (Central and Eastern European Outsourcing Association), Macedonia, Moldova and Serbia are the top three countries with considerably increased export of QA outsourcing from Central and Easter Europe.
The Central and Eastern Europe markets are increasingly attractive to nearby countries and the United States. Low cost, highly skilled IT labour, multiple languages skills, and favourable time zones attract Western European companies that have had a shortage of resources in their own IT sector due to complicated regulatory environments and high taxes.
Why developers in Eastern Europe are good
That's not a secret that East European developers have a good reputation. They accomplish their tasks efficiently rather than doing repetitive, volume based tasks.
Eastern European developers have been ranking in the top 10 of the world's best top 10 of the world's best developers list for several years. As they provide high-quality services to many companies in the United States and Western Europe, it has often been called an offshore software development paradise.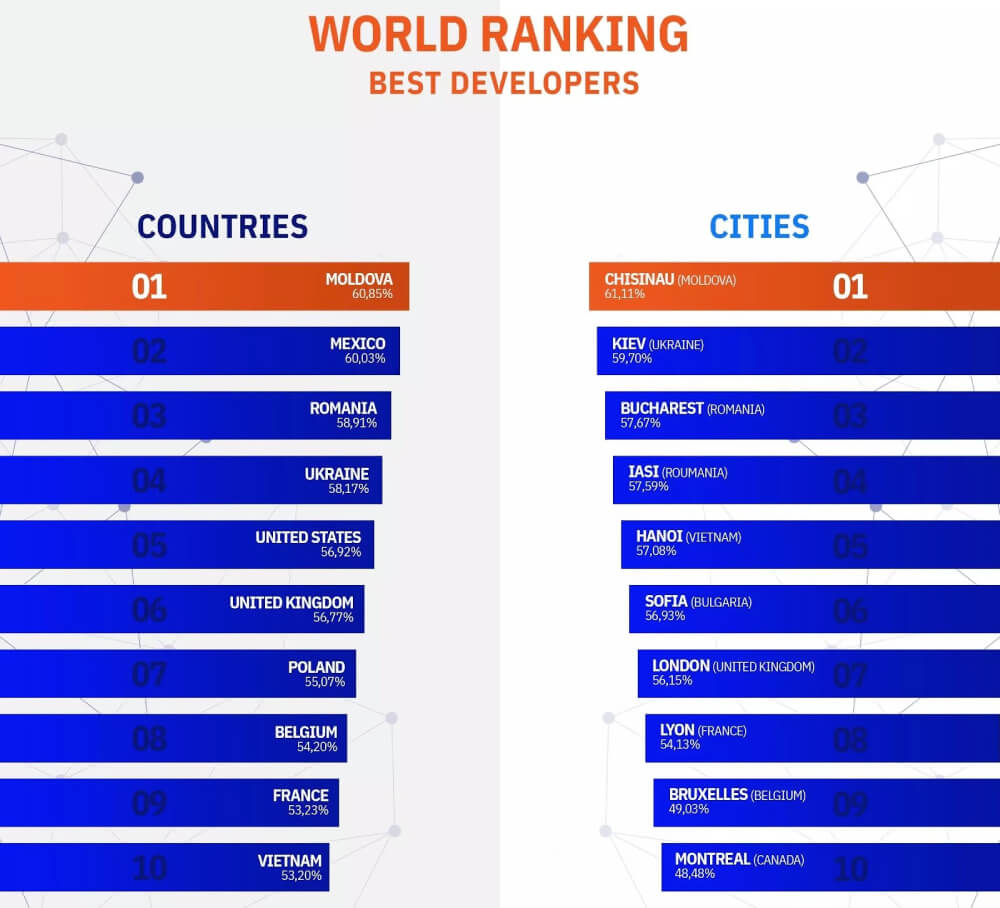 According to Infoshare, the most popular programming language in Eastern Europe is PHP. Developers from Ukraine, Poland, Romania and Moldova excel in custom software development and web development.
Having a high level of IT education, programmers provide high-quality IT services. Universities from Eastern Europe are producing each year an increasing rate of computer science graduates, this leads to a continuously growing labour market. Plus it should be noted that most developers are fluent in English, with the addition of Russian language.
East European software developers have in their portfolio successful collaboration with world-class companies as they are dedicated, work smart and show a lot of will.
Do you want to lower the costs of your IT projects but at the same time to get a good final product? Then nearshore IT development is the right choice for you!
How nearshoring can help your business?
Outsourcing software development has proven to be a key to a company's success. Choosing the right outsourcing vendor is a crucial decision.
Nearshoring will help companies grow, save money and the main advantage is that you can stay focused on your core business and not get distracted by complex IT decisions.
Due to geographical proximity, personal meetings could take place as much as necessary and this leads to the stable accomplishment of IT projects. Cultural similarities is another factor to take into account. It will ensure extremely easy communication between you and your partners, more control and better project coordination.
Choosing nearshore software development for outsourcing will bring your business more tangible benefits and you will get the desirable result.